5 yearswork duration
(planning, design, building)
25 years Concess duration
119.5 mil € Public contribution in form
of a capital grant
26.09 mil € Annual availability fee
6.15 mil € Annual heating and energy
supply fee
422.8 mil € LOT1 - PPP investment
Download brochure
Download Programme
Download presentation speeches
Questions & Answers
Project's highlights
The New Teaching and Research Hospital project (TRH) is proving to be a huge opportunity for Regione Piemonte, Torino and for real estate sector for implementing an innovative district that foresees high quality care and teaching integrated with the healthcare system. Although in Torino there are some renowned excellences, such as transplant surgery, the current hospital infrstructures are obsolete and non-performing. The masterplan involves the construction of a new innovative district which will house the activities and facilities currently performed by major hospitals of the City.
4 functional centres, all closely interconnected:
+ Healthcare and Clinical Training Centre 127,000 sqm
+ Research centre 10,000 sqm
+ Teaching centre 31,000 sqm
+ Residential 8,000 sqm
Investors' role
The development process will be implemented through a PPP contract relying solely on services strictly related to the construction works carried out. The international call to bid, which is foreseen to be issued by the end of October – mid November, will give private operators the framework to get involved.
Organized by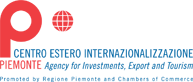 Promoted by