Contenuti Principali
Why invest in Piemonte
At the centre of Europe and the Mediterranean area
All roads lead to Piemonte
Piemonte, North West-Italy, is strategically positioned at the heart of the European development system, right at the crossroads of the main routes between the north-south, east-west.
As part of the European Union, companies located in Piemonte have duty free access to more than 30 national markets within the European Economic Area and to the world's richest consumer market of 500 million people, over 330 million of whom work in the single currency.
The region boasts very high accessibility and excellent connections to Europe and to the rest of the world, thanks to a close-knit network of roads, rail and air infrastructures and to the main Liguria's ports.
There is a way to do it better, find it here
A future-oriented location in Italy
Piemonte plays a key role in the Italian economy, combining industrial tradition with a strong drive for innovation, the propensity for research and development and a top quality of life.
Piemonte is a promising and competitive area to make business with. The region is dynamic in industry as in services, with a skilled, flexible and versatile workforce. Over the last decades, Piemonte has being diversifying its economic structure, directing itself more and more toward sectors tied to the economy of knowledge and of innovation.


Population
4.4 mln
(7.3% of the national total)
People living in Torino area over
2.3 mln
(52% of the regional total)
Over
1,000 towns
and 8 main cities
Export
€ 59 bn
(9.4% of the national total)
GDP
€ 137 bn
(8% of the national total)
Companies
426,000
(7.1% of the national total)
Flying high is a regional commitment
Focus on aerospace
In Piemonte, the aerospace sector is one of the productive and scientific excellences, confirming the regional vocation for technological innovation. In addition, the technical-productive specialization of the companies, both in manufacturing and technical services, make the local aerospace sector highly competitive on international markets.
The Piemonte aeronautics supply chain is complete and offers final producers of complex subsystems and suppliers of parts, components and functional groups that are incorporated in the following subsystems:


Aerostructure final assembly
On board avionics - Propulsion systems - Airframe structures & components
Electronic & electrical components & parts - Propulsion engine components - Interiors
Automatic control & data processing - Engine accessories - Environmental control systems
International key players: Leonardo, Avio Aero, Collins Aerospace, Thales Alenia Space, ALTEC, Mecaer.


DISCOVER MORE
Driving is a vocation by tradition
Driving is a vocation by tradition
Focus on automotive
Piemonte's automotive production encompass the entire supply chain from the upstream phases to the final products, offering business and know-how from the concept of the vehicle till its final delivery: project planning, prototyping, styling, robotics and automation, components and mass production, industrialisation of the product and test driving.
The strong leadership of Piemonte in robotics and mechatronics has fostered innovation, automation and cost-efficiency throughout the entire supply-chain also by the widespread adoption of casting processes for lightweight material and new manufacturing technologies such as additive manufacturing technologies (3D printing).


Some key players: AVL, Changan Automobile Designing Center, CNH Industrial, Delphi Italia Automotive Systems, Denso Thermal Systems, Eaton, Endurance Overseas, Stellantis, FEV, Italdesign, JAC Italy Design Center, Lear Corporation, Magna Steyr Italia, Marelli, Microsoft Innovation Center Torino, Punch, Reply, Schaeffler Italia, SKF Industrie, Telecom Italia, Valeo, Webasto, Yanfeng Italy Automotive Interior Systems, ZF-TRW Automotive, 5T.


Piemonte is the forerunner in Italy in terms of automotive components companies and accounts for around 45% of the national automotive sector's total revenue.
730
AUTOMOTIVE & TRANSPORTATION COMPONENTS COMPANIES
33.3%%
OF THE ITALIAN AUTOMOTIVE & TRANSPORTATION COMPONENTS INDUSTRY
32.5%
OF THE ITALIAN AUTOMOTIVE & TRANSPORTATION COMPONENTS TURNOVER
DISCOVER MORE
Engaged to life, engaged for life
Focus on Health and Wellness
The strong skills existing in Piemonte in converging technological sectors such as Information Communication Technologies, electronics and nanotechnologies have favoured the development of significant results and expertise in bioinformatics, bioengineering, data science techniques and biomedical equipment.
Piemonte can also count on a strategic position right at the centre of one of the most dynamic biotech areas in Europe. Its proximity to other highly developed European regions, such as Lombardia in Italy and Rhône Alpes in France, is yet another plus for Piemonte region, being an ideal connection between the two areas, for widespread, synergic and shared development.


Some key players: Advanced Accelerator Applications (AAA) A Novartis Company, Ab Sciex, Agilent Technologies, Bracco Imaging, Diasorin, Delpharm, Ephoran, Huvepharma, Livanova, L'Oreal, Merck Serono, Olon, Sicor (Teva), Sienna Biopharmaceuticals.


2,800
COMPANIES OPERATING IN THE HEALTH & WELLNESS SECTORS
2,200
COMPANIES IN THE HEALTHCARE FIELD
600
COMPANIES IN THE WELLNESS FIELD
1
INNOVATION CLUSTER FOR BIOTECHNOLOGY BioPmed
1
Science Park FOR BIOTECHNOLOGY AND 3 INCUBATORS
DISCOVER MORE
Here the future starts today, not tomorrow
Innovation as a driving force
Piemonte has expanded its economic structure, directing itself more and more towards sectors tied to the economy of knowledge and to the development of a digital society
Recent data confirm that Piemonte is the leading Italian region when private R&D is concerned. Companies expenditure in R&D reaches 1.8% of the regional GDP (the national average is 0.8%). Source: Istat 2021 on 2018 data survey.
The R&D system
200
R&D PUBLIC AND PRIVATE CENTRES
1st ITALIAN REGION IN TERMS OF PRIVATE INVESTMENT IN R&D
INNOVATION CLUSTERS
Piemonte was the first Italian region to formally establish Innovation clusters as new industrial policy tool to support the innovative skills and competitiveness of regional research system players.
Polo AGRIFOOD - Cuneo (Agrifood)
BioPmed - Torino (Life Sciences)
CGreen - Alessandria and Novara (Green Chemistry and New Materials)
CLEVER - Vercelli (Energy and Clean Technologies)
MESAP - Torino (Smart Products and Manufacturing)
Pointex - Biella (Textile)
Polo ICT - Torino (Information and Communication Technologies)
People are our greatest asset
High quality education
Four universities make up Piemonte's higher educational structure, with over 130,700 students enrolled: Politecnico of Torino, University of Torino, University of Eastern Piemonte and University of Gastronomic Sciences. The region's universities have a strong R&D base and a good track record of industry collaboration and are at the centre of a close-knit network of international relations. Colleges for higher education and professional training, private centres or institutes for post-graduate education complete the offering.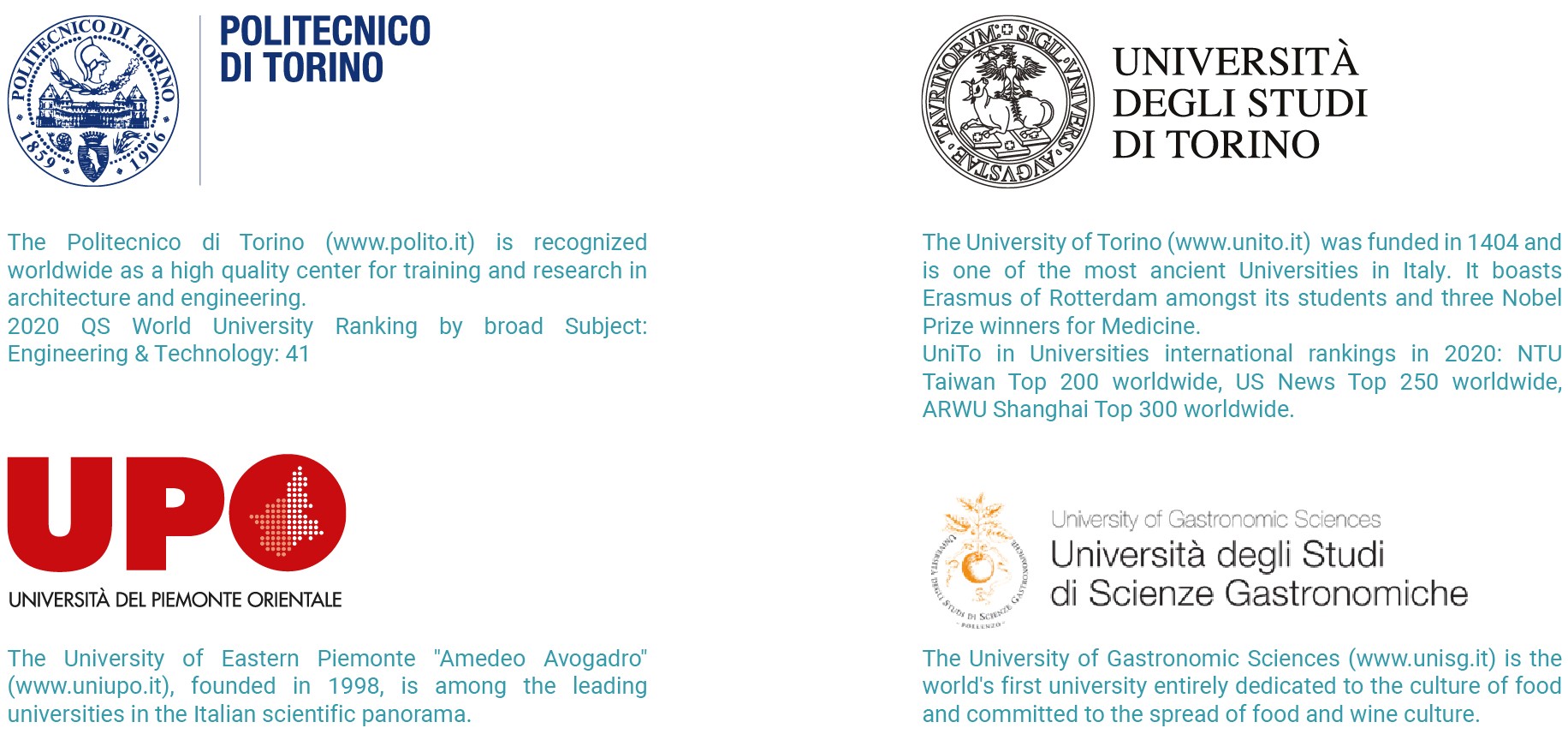 Turnkey business mindset
The subsidy system in Piemonte focuses both on the start-up of new initiatives, and on the development of existing companies. The subsidies, which can take the form of soft loans, non-repayable grants or free-of-charge, guarantee support to companies according to the European regulation on state aid and can vary according to the type of beneficiary, of investment and to the nature of expenses.

The system is one of the richest and most effective among the European developed regions, addressing all the relevant industrial sectors, focusing in particular on research and innovation, manufacturing, sustainability and energy efficiency. The broad range of official sources and subsidised tools allows Italian and foreign businesses to cover the various stages of growth and development.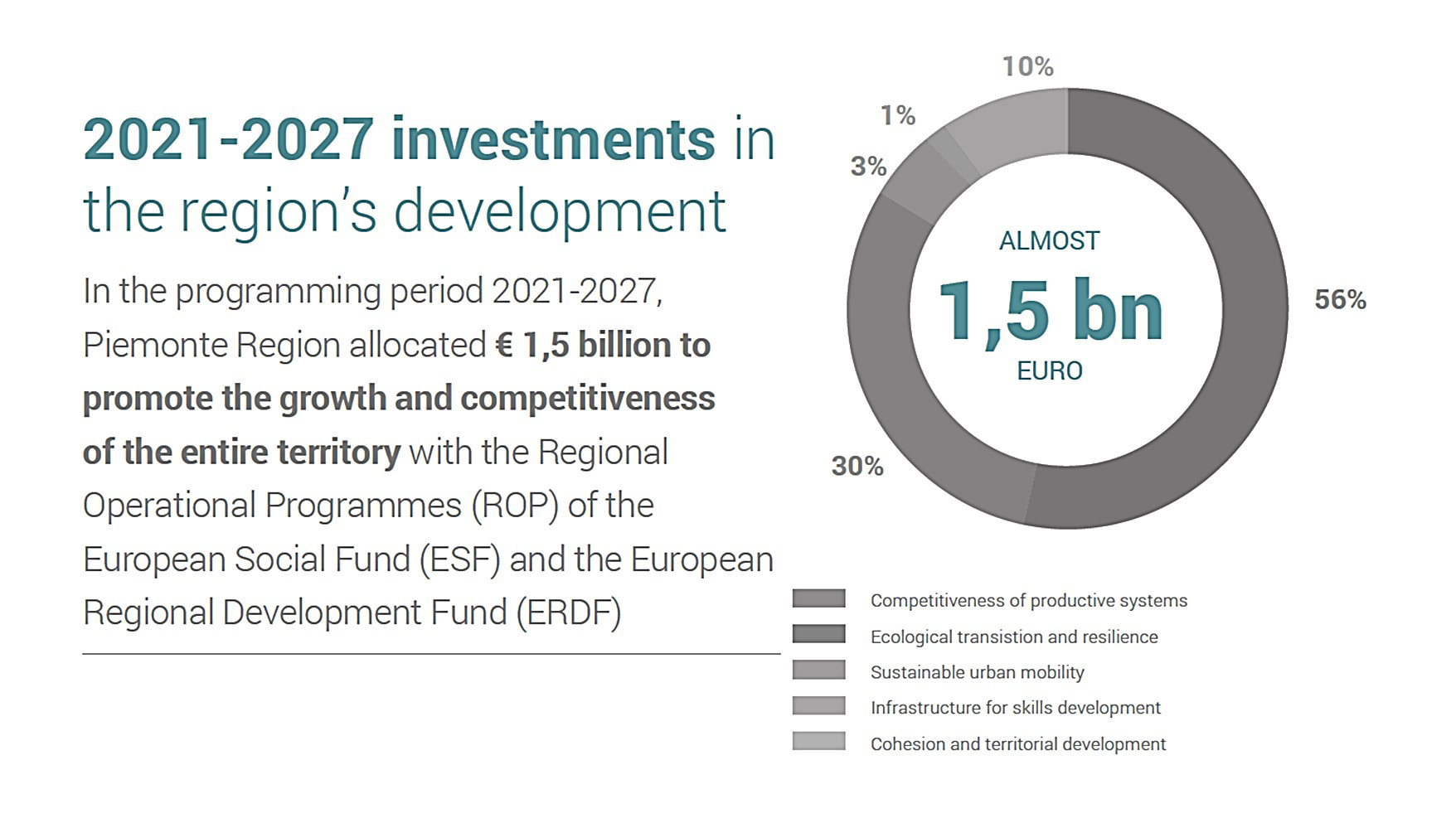 Here every moment is an experience
Top quality italian life experience
Piemonte offers a first class environment for living as well as for doing business. High standard of schools, accessible public transport and excellent healthcare and social services, rich and varied leisure activities, a unique cultural scenery: there is plenty to suit everyone.


First class environment for LIVING as for doing BUSINESS
A unique TOURIST and CULTURAL SCENERY
Overnight stays in the Torino Metropolitan Area: 6.6 mln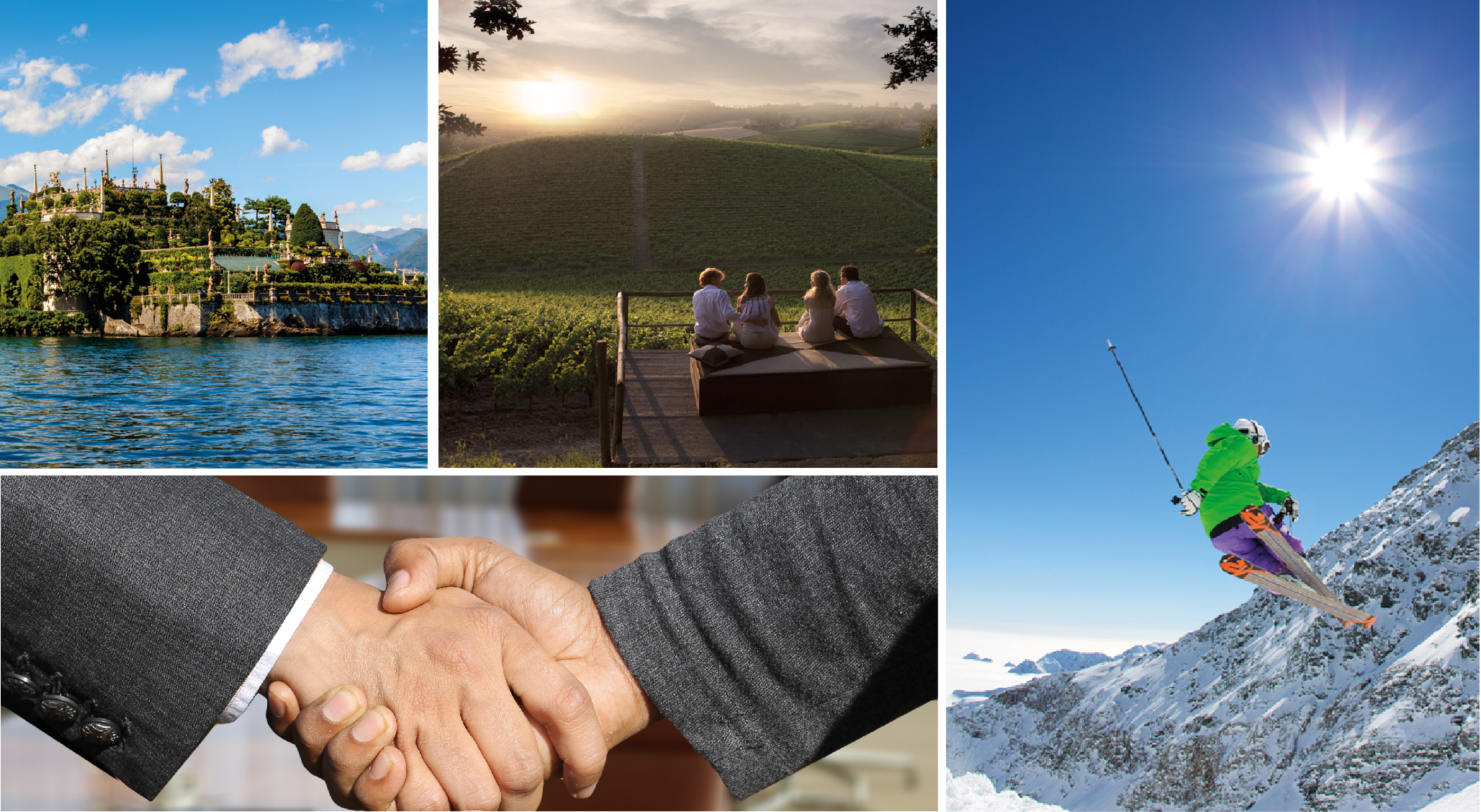 Logistics
Thanks to its strategic position at the heart of the European development system, right at the crossroads of the main routes between the North-South and the East-West, logistics in Piemonte is a solid and strategic sector, extremely dynamic and promising: over the last 5 years it has been growing in the number of employees and Added Value.
A strong real estate sector and a fertile ICT development strongly support Piemonte's logistics offer and make it unique. It is made up of freight villages – the region ranks 4th in Italy for extension of freight centers (>5 sq km of available spaces) thanks to the freight villages of Rivalta Scrivia, S.I.TO. and CIM Novara - but also of the numerous settlements established along the motorway axes connecting the region to Lombardy and Liguria: this interconnected network makes Piemonte highly suited to the collection, recovery and distribution of goods.
DISCOVER MORE
Real Estate
Piemonte is experiencing important changes and is investing in urban transformations and large projects. Its strategic vision aims to attract investment and to be a welcoming and business-oriented region.
Among the important ongoing investment projects, Piemonte boasts some major transformations that will give a strong boost to its entire economic/productive system in terms of research and innovation, launching the region at the center of the European development in life sciences, aerospace, advanced manufacturing, sustainable mobility and logistics.
DISCOVER MORE
Digital Technologies and Solutions
Digital technologies and solutions are among Piemonte's leading excellences. The region is the Italian
Piemonte region is home to important companies, research centres, universities and top national and international key players: this is a highly competitive hub supplying an extensive offer, guarantee of flexibility, quality and reliability.
Video-testimonies of entrepreneurs and prominent figures of multinationals and foreign and local companies that operate and continue to invest in PiemonteSkills, advantages, strengths and growth prospects: Piemonte told by those who chose it and continue to choose it every day.