A worldwide leading cluster
Italy is the fourth largest European automotive market after Germany, the UK and France. The Italian automotive industry is primarily concentrated in Torino e in Piemonte: around 50% of the 2,6000 companies (with 170,000 employees) active in Italy, are in fact established here. Piemonte and its capital city Torino, birthplace of Fiat, now FCA after the merging with Chrysler, are indeed not only the core of the national automotive industry, but of the European car and mobility technology. In Piemonte are located the representative, complementary actors of the automotive world: major companies OEMs, SMEs and supply chain, R&D centres and engineering academy. The synergy between all these actors has made a decisive contribution to positioning the region among the leading clusters worldwide in a sector characterized by a high level of innovation and research, like the automotive one: in fact, the technological innovation is subject of constant attention and deeply rooted in the Piemonte engineering culture. Universities and research institutions play a very active role in the overall development and innovation of the industry: from skilled vocational training and niche specialized engineering programs to independent and collaborative research projects, universities are a key component of the industrial sector.
About
670
companies of which:
82%
of companies export abroad
68%
of companies invest in R&D
A unique and complete supply chain devoted to the future
Piemonte's automotive production encompass the entire supply chain from the upstream phases to the final products, offering business and know-how from the concept of the vehicle till its final delivery: project planning, prototyping, styling, robotics and automation, components and mass production, industrialisation of the product and test driving. The tradition of "knowing how to make cars" has always been preserved while being reinterpreted to match changing market and technology conditions. Moreover, the role of machinery industry, R&D and design is strategic at every layer. The strong leadership of Piemonte in robotics and mechatronics has fostered innovation, automation and cost-efficiency throughout the entire supply-chain. Also through the link with leading system and technology providers (often located in the area), the supply chain can offer strong competences on electrical and electronic architectures, including power conversion systems, safe and secure real-time communication systems, advanced human-machine interfaces and remote monitoring systems.
New Vehicle Architectures
Many famous style studios, design firms designers and innovative concept companies work in Torino and in Piemonte. These professionals are shifting their attention from a pure style research mindset, to the focus of re-designing vehicles also as multimodal and connected platforms able to respond to the requirements of the sharing economy and mobility as a service.
The attention to new vehicle architectures conceived in Torino and Piemonte will impact the :
Concept design and advanced design, meaning style but also re-inventing new auto functions and applied technologies, by including connectivity, infotainment and new concept models.
Product engineering, this being a highly technological process in which new materials and new construction technologies are merged to create new architectures for light-weight, recyclable vehicles which are not polluting and which are cheap at the same time, which means they are sustainable and accessible to everyone.
Fast forward innovation
R&D and innovation play an important role: 43.7% of the Torino-Piemonte automotive enterprises invest more than 2% in R&D (31% invest from 2 to 5, 7.7% from 6 to 10, 5% more than 10%) and are responsible for more than 50% of the European patents granted to inventors in Piemonte.
R&D&I activities by companies, University and Politecnico of Torino are overall engaged and dedicated to the development of the future world engines such as: the new generation of diesel engines, to reduce emissions by downsizing the engine mass and weight, while increasing the overall engine performance; evolved electronic systems, to manage and control the engines' activities and performance; hybrid engines, to reduce fuel consumption and to begin promoting among the public the circulation of vehicles that are not dependent only from endothermic engines and to open up the path towards future electric vehicles. Furthermore, Piemonte was the first Italian region to formally establish innovation hubs as new industrial policy tools to support the innovative skills and competitiveness of regional research system players. They support industrial competitiveness and promote the aggregation of small and medium enterprises, large companies and research organizations to share knowledge and make innovative product and service investments converge along common design and development lines.
Innovation Hubs
MESAP is the technology pole for the design and production of advanced industrial automation smart products and processes - www.mesap.it

Clever operates in the fields of energy and energy efficiency, water resources, climate change for infrastructures and distribution networks, sustainable mobility and clean solutions. www.poloclever.it

Polo ICt develops research projects with high technological content and strong potential of impact in: food processing, biomedical and multimedia industries, as well as sustainable construction, renewable energy, green building and hydrogen, mechatronic and textile industries. www.poloinnovazioneict.org

Proplast is a technological cluster active in the polymer and composite field and recognized at European level (silver labelled). Proplast offers R&D and training services, with specific competences in materials, processes, CAD design and FEM simulation. Proplast is active in collaborative research projects and CSA actions. www.proplast.it
The new frontier of the sector: integrated e-mobility
The region's strong expertise in the field of engines and the approach to sustainable mobility is strengthened by the presence of Fiat PWT, Fiat Research Center and GM Global Propulsion Systems that develop in their research centres based in Torino new generations of engines, with high-performances in terms of sustainability and respect for the new rules on emissions reduction. In addition, more than 350 companies perform activities in the "green tech" field.
The evolution of the mobility sector is aimed to develop new solutions (both for passengers and freight) that can be resource-efficient, climate-and-environmentally-friendly, safe and seamless.
It's possible to find in Piemonte the necessary know-how for electric vehicle integration and all the solutions based on full electrical mobility, encompassing energy harvesting with both on-board and off-board photovoltaic generation.
In addition our local companies are working on innovative smart mobility concepts integrating vehicles and infrastructure through the application of advanced digital technology.
Companies are indeed more and more developing distinctive technologies in the field of connectivity, autonomous driving, sharing mobility, sensor fusion, internet of things, big data systems projecting the whole territory towards new challenges and new consumer markets.
Bluecar: a made-in-Piemonte success case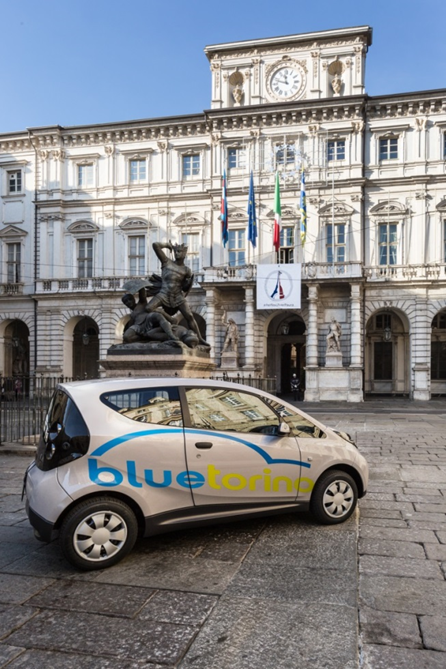 The Bolloré Bluecar is a small four-seat, three-door electric car designed by Pininfarina and manufactured by Cecomp in Bairo, Italy. The car has a 30kWh lithium polymer (LMP) battery, coupled to a supercapacitor, that provides an electric range of 250 km (160 mi) in urban use.
The vehicle has been designed and assembled in Torino and most of systems and components has been supplied mainly by Piemonte SMEs
Charge While Driving Wireless Power Transfer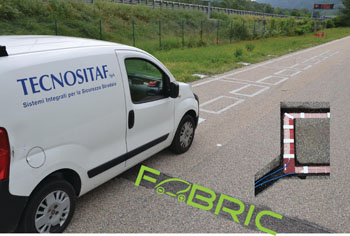 The Charge While Driving Wireless Power Transfer (or Dynamic WPT) solution has been developed by Energy Department at Politecnico di Torino in cooperation with Tecnositaf, SAET, MECT, AMET and other SMEs in Piemonte area. The solution has been realized inside the European Project FABRIC (FP7 n. 605405). The DWPT is under test at Susa (Italy) and is capable to transfer up to 20kW to a Plug-in or Electric Vehicle at 25cm distance while the vehicle is in motion (max speed 130km/h). The system can be easily installed in an existing road or highway as well as be part of a barely new e-road.
Pop.Up Next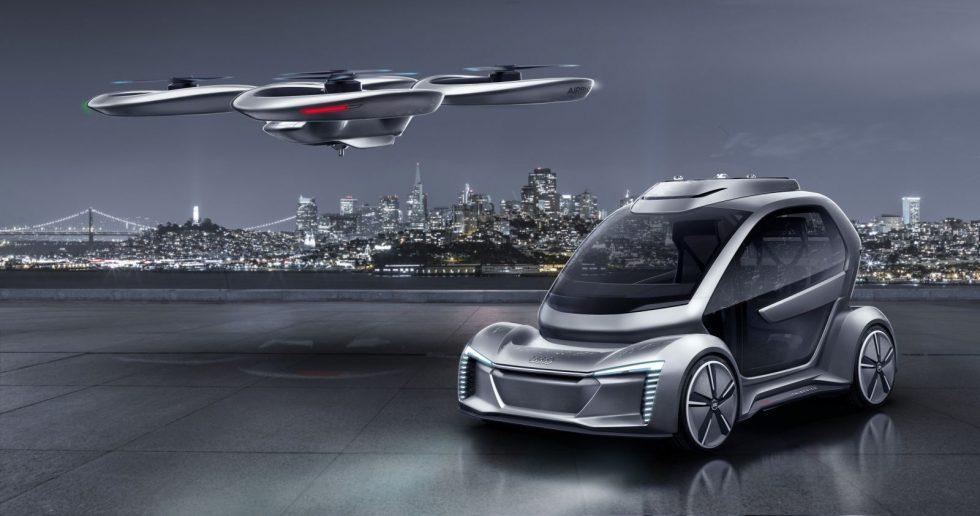 Pop.Up Next is the evolution of the first fully electric and zero-emission modular system, designed to help resolve traffic congestions and reflects the philosophy driving Italdesign's 50th anniversary celebrations, anticipating the challenges that the next fifty years will bring. It represents a vision of the potential offered by future technologies, the new concept of transportation and the new solutions for resolving the problems linked to city planning and traffic in large urban centres that are increasingly becoming one of the priority aspects for safeguarding our planet. Next is evidence of the success achieved by Pop.Up over the past year amongst the main players in the transportation world, the municipalities and institutions worldwide.
Pop.Up combines the flexibility of a small two seater ground vehicle with the freedom and speed of a vertical take-off and landing (VTOL) air vehicle, thus bridging the automotive and aerospace domains. The core of the product is therefore the intermodality and making it modular.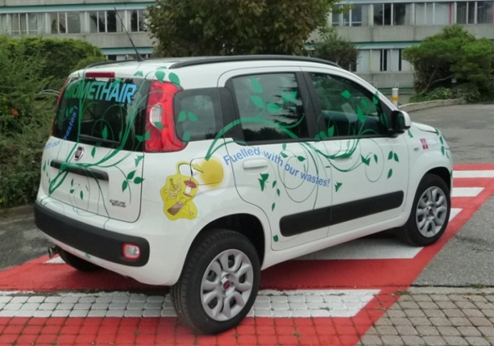 The Biomethair project, coordinated by FIAT Research Center, originated to develop innovative Technologies dedicated to the best use of methane gas, in order to realize a city car prototype with practically zero impact on the environment. Thanks to the collaboration of 19 partners made up of local firms and the academic world in the Piemontese territory, a prototype vehicle has been developed on the base of the FIAT Panda and an innovative, experimental system for the production of biomethane and biohydrogen.
Some key players
FCA
GM Global Propulsion Systems
Magneti Marelli
Denso
Oerlikon
Magna
FEV
AVL
Changan
JAC Motors
Lear Corporation
ZF -TRW Automotive
SKF
CNH Industrial
Eaton
Valeo
Webasto
Yanfeng
Delphi
Academic Research
Thanks to the presence of the Politecnico di Torino, of the University of Torino and of other specialized research centres, Piemonte provides the necessary support to design and R&D activities.
Focus on
Well integrated into the surrounding industry, Politecnico di Torino conducts applied research in conjunction with companies and participates in programs at a National and European level. Collaborating for R&D purposes is an opportunity very much valued by automotive companies. Its Departments of Energy (DENERG), Mechanical and Aerospace (DIMEAS), Chemistry, Materials and Metallurgy (DISAT), Electronics (DET) and Computer Science and Automation (DAUIN), Industrial Production and Additive Manufacturing (DIGEP) are the most relevant for Automotive business
In addition, some of the Interdepartmental Centres @PoliTo can offer a comprehensive, multidisciplinary support for automotive sector, like: CARS (Centre for Automotive Research and Sustainable mobility), Ec-L (Energy center Lab), IAM (Integrated Addtive Manufacturing@PoliTo), J-Tech (Advanced Joining Technology) and PEIC (Power Electronics Innovation Center).
The University of Torino ranks 3rd in scientific research performance among all Italian universities. One of the biggest university in Italy, hosting about 70.000 students, 4.000 staff, 1800 post-graduate and post-doctoral students. Two most relevant distinctive features are: cross-competence approach to research, with multidisciplinary teams from different scientific areas (eg. chemistry, computer science, physics, medicine, mathematics); open access policy to its research instrumentations and labs (eg. use by industrial partners of: advanced microscopies for detection of the finest details of products and the microstructure of materials; High-Performance Computing and cloud engineering infrastructure).
Main research competence for the automotive industry are:
advanced materials for additive manufacturing
smart materials (eg. pressure sensors of polymeric nano-composites with carbon nanotubes )
polymer nanocomposites for flame retardant
thermal, structural, compositional and acoustic analysis of advanced materials for brake pads
cast irons and aluminum metal alloys for cylinder heads
analysis of advanced materials for optical Lighting Systems
sensor fusion
alternative propulsion (fuel cells, batteries, recycling)
comfort economic analysis, market analysis, market positioning, consumer behaviour analysis