Automotive and Transportation in Piemonte
Contacts
Rosanna Viola
Project Manager
T: +39 011 6700685
F: +39 011 6965456
E: This email address is being protected from spambots. You need JavaScript enabled to view it. 
Piemonte and its capital city Torino, birthplace of Fiat, now Stellantis, are the core of the national automotive industry and of the European car and mobility technology. Key players of the automotive world are based in Piemonte: major companies OEMs, SMEs and supply chain, R&D centres and engineering academy. The synergy between all these players significantly contributed to positioning the region among the leading automotive clusters not only in Europe, but also globally.

VTM TORINO: International Business Convention for Automotive & Vehicle Innovation
VTM Torino is a new mobility technology event that brings together the vehicle and transportation community: from vehicle makers and tier suppliers to mobility decision makers, disruptive technology entrepreneurs and solution providers. Next edition: 30-31 March 2022.
---
Piemonte is the forerunner in Italy in terms of automotive components and accounts for around 45% of the national automotive sector's revenue (Source: "Automotive Industry 2020" by ITA - Italian Trade Agency).
736 % automotive components companies
33,5% of the Italian automotive components industry is in Piemonte
38% of the Italian automotive components turnover is in Piemonte
60,300 employees
Source: "2020 Observatory on the Italian Automotive Components Sector", by ANFIA, Torino Chamber of Commerce and the Center for Automotive and Mobility Innovation of the Department of Management of the Ca' Foscari University of Venice.

Comprehensive know-how
Piemonte's automotive production includes the entire supply chain from the upstream phases to the planning, prototyping, styling, robotics and automation, components and mass production, industrialisation of the product and test driving. The supply chain also offers a strong skill-set on electrical and electronic architectures, including power conversion systems, safe and secure real-time communication systems, advanced human-machine interfaces and remote monitoring systems. Moreover, the role of machinery industry, R&D and design is strategic at every level. The strong leadership of Piemonte in robotics and mechatronics has fostered innovation, automation and cost-efficiency throughout the entire supply chain also by the widespread adoption of casting processes for lightweight material and new manufacturing technologies such as additive manufacturing (3D printing) technologies.
The new frontiers of the sector
The region's strong expertise in the field of engines and the approach to sustainable mobility is strensthened by the presenze of FPT Industrial and Fiat Research Centre that develop new generation engines featured by high-performance in terms of sustainability and respect for the new rules on emissions and greenhouse gas (GHG) reduction.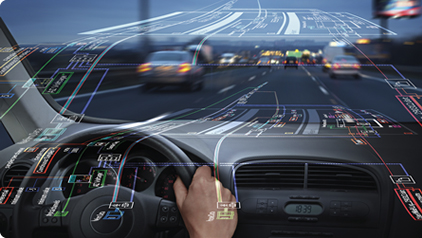 Piemonte offers the necessary know-how for electric vehicle integration and all solutions based on full electrical mobility, including energy storage and distribution.
In addition, local companies are working on innovative smart mobility concepts integrating vehicles and infrastructure through the application of advanced digital technology. Companies are developing more distinctive technologies in the field of connectivity, autonomous driving, sharing mobility, sensor fusion, Internet of Things and Big Data, projecting the entire territory towards new challenges and new consumer markets.

Torino is one of the first cities in Italy allowing the testing of autonomous vehicles on its public roads and not only in areas closed to traffic. Vehicles equipped with Level 3 (Hands-off, feet-off, eyes-off, brain-on) solution can be tested, with the purpose to extend to Level 4 (brain-off) and Level 5 vehicles (no driver there at all) in the future. The City of Torino will give companies, public institutions and universities access to dedicated roads and telematics infrastructures, that already exist or that will be built on purpose, in line with international standards and protocols where in place.
Contacts
Rosanna Viola
Project Manager
T: +39 011 6700685
F: +39 011 6965456
E: This email address is being protected from spambots. You need JavaScript enabled to view it.